A rise in stamp duty and the uncertainty of Brexit has had an effect on people moving home and many are choosing to 'do up' their property instead. Of course, this doesn't help those who are in a flat, unable to find their next purchase, which ends up stagnating the market. More than one-third of home-owners responding to a recent survey decided to modernise beause they wanted to, not because they needed more space. Almost half the renovations were attributed to 'over-55s' updating their homes, discarding the traditional for today's more contemporary designs.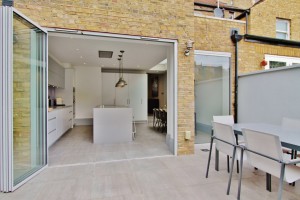 A recent survey of estate agents revealed that a new kitchen will typically add between 5% and 10% to the value of a property. The addition of a new bedroom could increase the value by more than 10%. In the past ten years in the UK, planning permission requests have increased by almost 30%. Loft renovations were most popular, followed by an extension to the main living area to incorporate an open plan lifestyle. This is where bi folding doors became popular.
Important decisive factors include: energy efficiency, smart technology, increasing natural light and increasing living space. SunSeeker UltraSlim Doors comply with thermal regulations. The ultra slim thermally-broken aluminium frames surround the British Standards kite-marked double glazed unit and can include integral blinds (optional). The 19mm frames enable more natural light through the larger* glass area (*compared with traditional bi folding door frames). Each of the doors can open outwards and stack neatly at the edge of the opening, taking up considerably less space than bi folds. Please see our video demonstrations of UltraSlim slide-pivot and stack doors.
UltraSlim is the only UK-manufactured patio door in its class. Contact us for a quotation today.