Since the launch of our UltraSlim slide-pivot patio door systems with an incredible 19mm frame width, the most popular frame colour choice specified by our clients is Anthracite Grey.
Reacting to market demand, we now include Anthracite Grey (RAL 7016) or white as the standard colours for all SunSeeker Doors' UltraSlim range at no additional cost.
Other popular colours (additional cost) are black, "silver" and various shades of grey: Slate grey, Graphite grey, Stone grey.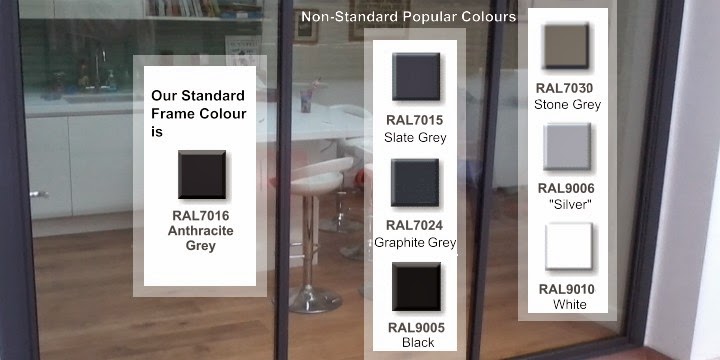 We can supply door frames in almost 200 RAL colours and have powder-coated the aluminium frames in dark blue, moss green, sepia and "gold". Some processes are more complex and some colours are expensive to manufacture therefore the additional costs can vary greatly.
Colours are bonded to the frames, requiring virtually no maintenance – usually an occasional wipe with a damp cloth. During, our many years of business, we have never known powder-coated aluminium colours to fade, discolour or easily chip.
Stonger, therefore slimmer, neater and more appealing that upvc, aluminium door frames are very popular with home owners and commercial property owners. Visit our website and view our patio door galleries.