When searching for the perfect patio door, what do people need to look for? Especially those who are unaware of UltraSlim, made in England by an established door technology company.
BiFolding Doors were designed and manufactured in England by SunSeeker Doors in 2003, one of the first companies to do so when virtually nobody used the term 'bi-fold'. They were more commonly referred to as sliding-folding, concertina/accordion doors and, occasionally, multi-folding glass panel doors.
Aluminium-framed bi folds had advantages over timber and pvc alternatives: stronger, lighter, more durable and less bulky than wooden or plastic frames.
French doors are usually 2-door systems for small apertures, typically less than 2 metres wide. Bi folding doors could open at either side or somewhere in the middle. Good for modern properties but not so popular in period homes.
Sliding doors are available in narrow or wide widths and can run on one, two or more grooves to increase access space. They are not so useful for small apertures as there is always at least one panel that is 'in the way' therefore a 5ft wide opening will allow only 2ft 6ins maximum of access through them. A very large opening can look amazing if using Sightline sliding doors.
Pocket doors are similar to sliding but more useable walk-through space is available as the doors can slide into cavities within the side walls.
Patio and Panel doors are generic terms for various styles.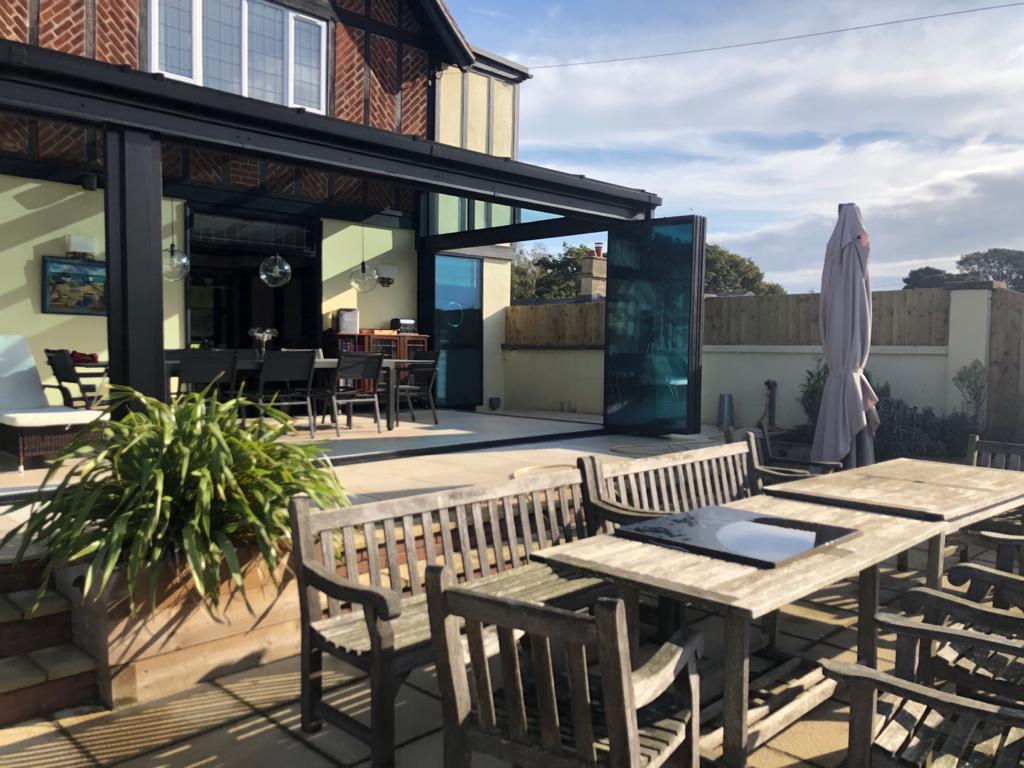 There is currently no specific term to describe UltraSlim slide and pivot doors. In addition to patio and glass panel doors, they are called bi-folds (although, having no hinges, they do not fold), slide-and-turn, slide-and-swing or stacking doors. You can view video demonstrations of slide-pivot doors.
Frameless Glass Doors work on the same principle. They are slide & turn without frames. The major difference is that Frameless Glass is not double-glazed and therefore the thermal values do not meet standards for forming part of the external walls of a house. They are made from tempered safety glass and are ideal for conservatories, external enclosures, internal room dividers or commercial properties where these rules do not apply.
UltraSlim was first launched in 2009 and has been honed over the past decade. In our opinion, UltraSlim aluminium framed slide-turn-stack offers the best of all options for most homes.