SunSeeker Bi folding Doors were first manufactured and installed in 2003. Within 5 years, other bi-folds were widely available and we knew we had to step up so, in 2009, we designed and developed the next innovative patio door. Fully retractable, like bi folds, but without hinges which enabled us to reduce the width of the side frames by more than half – to under 2cm (approx.¾").
Ahead of the rest: SunSeeker UltraSlim slide and turn doors launched in 2009 and will celebrate its 10th birthday later this year.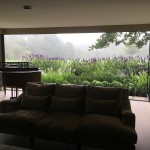 Variously known by other names, including: slide and turn, slide and swing, slide and pivot, slide and stack (and, ironically, bi folding doors), UltraSlim remains the market leader in terms of technology and overall sales, despite some newer competition. Our doors are bespoke to meet each customer's exact requirements; made to measure, manufactured by our own engineers at our UK premises and installed by our own trained teams, for a complete service without the 'middle man'.
SunSeeker Doors is a small/medium family-owned business, with a wealth of experience in aluminium door systems over more than 15 years. Our door frames are made from thermally broken aluminium, for strength and durability. We use kite-marked double glazing units within the fames and, if required, the cavity can house horizontal slatted blinds which a virtually unbreakable, as there are no 'touchable' parts. There is a choice of RAL colours for the frames, from our in-house powder-coating facility, and various glass options  – see our optional extras page.
UltraSlim sliding/stacking doors are the original and, we believe, the best value-for-money contemporary doors made in the UK. See some of our customers' installations in our gallery and watch video demos of how slide & turn doors work. Then all you have to do is find your tape measure and fill in the form for our no-obligation personal quotation.