Frameless Glass Doors around a fixed gazebo must be the perfect way to watch a sunset.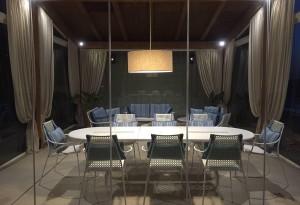 You don't have to have a home in Sandbanks or on Hampstead Heath to enjoy fantastic views. Many people are building additional out-houses at the bottom of their gardens to benefit from a different aspect of the morning or evening sun.
Quite often, no planning permission will be necessary for a gazebo, therefore it could be in use within a few weeks. (You will need to check with your local building authority.)
In this case, the customer has a larger than usual structure which is able to accommodate both comfortable seating as well as a dining area but the possibilities are endless.
The frameless glass door sets each have a single door that opens outwards, enabling each of the other doors to slide across to the open door and to also open outwards and stack against the previous door. In this way, the sides of the outbuilding or gazebo can be completely open for people to wander through, whilst the roof keeps the sun or rain at bay.
 Frameless tempered glass or double glazed UltraSlim with integral blinds?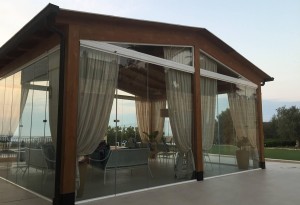 If you are spashing out on your outbuilding or if the doors are part of an extension, you may prefer or need a double-glazed solution, such as SunSeeker UltraSlim with extremely narrow 19mm side frames. Advantages of double-glazed UltraSlim doors include:
Fully weather proof
Thermal values to British Standards
Optional integral blinds
Take a look through our galleries for ideas then contact SunSeeker Doors for your free (and obligation-free) quotation – we'll quote for all door styles so that you can compare prices before making your decision. We look forward to hearing from you.
P.S. For a better look at the photos, click on the pictures and a larger image will be displayed.