Two sets of UltraSlim doors were installed for a client in Hertfordshire, in a house that was being constructed, based on a Potton Homes structure. At a critical stage during the build, the doors were critical to seal the house before internal works took place.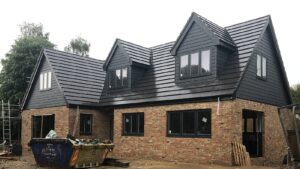 The customer had had our Slimline bi-folding doors installed in a previous home which was sold five or six years ago, with the doors generally accepted as the 'wow' factor when prospective buyers visited; the first two viewers racing to have their bids accepted, subject to selling their own properties.
The new installation has a set of doors from the west-facing sitting room to the patio and another set of doors opening up from the kitchen/dining room, facing south. The customers moved into their new home four months ago and have made good use of their UltraSlim doors throughout the summer.
They said: We lived with SunSeeker bi-folds for almost ten years and they were as good as new when we left. They were virtually trouble-free – just a little bit stiff when the weather suddenly changed from cold to hot and vice-versa. The secret is to treat them with care, as you would with expensive wine glasses, for example. We look forward to many more years of trouble-free patio doors.
We say: Thank you for your comments and photographs. We hope you will enjoy many years in your lovely new home.
Want a quote for doors like these? Go to Quotation Request – free quote with no obligation to buy!