There is a demand for SunSeeker Doors to be installed in period properties, including updating Crittall style.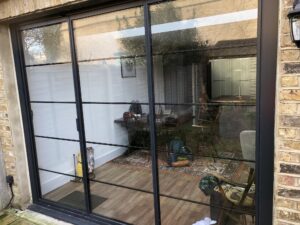 Properties with original Crittall windows "the original steel window manufacturer" are sometimes subject to special conditions but there were many houses built in the 1950s – including council housing estates – with this single glazing system. There were condensation problems which eventually led to the need to re-paint the frames.
Where possible, UltraSlim's aluminium frames can be finished in any RAL colour, to suit. The frames are powder-coated and, therefore, never require painting. Our doors and windows are double glazed to British Standards and kite-marked.
To our knowledge, Crittal doesn't offer retractable doors and windows which is another reason to choose SunSeeker UltraSlim for your lifestyle. Our door frames are only 19mm wide. There is a main door to one side which can open inwards or outwards, enabling the next door along to slide towards the open door and also open… and so on. This system can be applied to windows (minimum height of one metre). Link to Crittall.
We are also able to make UltraSlim Doors and windows as specialised customisations, including the Crittall style shown in the images. Contact us for a quotation or to discuss your specific requirements.