excellent and visually stunning
Sent: 16 November 2017 15:45
To: sales@sunseekerdoors.co.uk
Subject: Feedback on after sales
Re your after sales visit on 2 November. I would just like to say thank you for the prompt and friendly service we received from yourselves regarding the fitting of new trims to the doors previously installed.  It seems nothing is too much trouble, considering we live 160 miles away.  Robert arrived promptly, he was very friendly and meticulous in his work.  Thank you once again for manufacturing an excellent and visually stunning product.
Superb installation... Exellent professional job
Sent: 31 October 2017 21:08
Subject: Installation today
Hi
Just to let you know that Ryan and Dimi did a superb installation here today. Excellent professional job!
Neil Tristram
The glass doors look lovely
Sent: Tuesday, October 3, 2017 10:30:22 PM
Subject: Re: Installation
Dear Paul,
Just wanted to say thank you for arranging for  Robert to come last Saturday and fit our glass doors.
He did a very good job and as before was courteous and professional.
The glass doors look lovely.
Thanks for sending the engineer
Sent: 03 October 2017 13:43
To: 'Sunseeker Doors'
Thanks for sending the engineer.
He managed to sort the problems out and advise on what do in future. I thought he had a great manner and was very polite.
... the doors look fantastic from the inside.
Sent: 21 September 2017 13:56
To: Sunseeker Doors
Subject: RE: installation
Hi Paul and Tony,
Just returned from a business trip, the trims look great, really finishes it off nicely.
Thank you
Regards
Les
Sensational Job ... Doors Look Amazing
Sent: 21 September 2017 12:53
To: Sales at Sunseeker Doors
I just wanted to say what a sensational job you did yesterday at my home – the frameless doors look amazing – and lovely installers too!
Thank you,
John Pardey.
speedy response to my service request
Sent: 04 July 2017 15:38
To: info@sunseekerdoors.co.uk
Subject: Service request
Hi,
Many thanks for your speedy response to my service request.
The problem was quickly sorted by your technician, he did a good job and was helpful, and also arrived when you said he would.
Kind regards,
Paul Orris
Delighted with Our New Doors
Sent: 22 June 2017 15:40
To: Sunseeker Doors
Just wanted to say that Sue and I are delighted with our new doors. They look amazing and such a huge improvement from the original fitting and a huge relief for us that we now have the doors which we had hoped for. Adrian was very helpful and did a great job of fitting them.
I've attached a couple of pics. I'll take some better pics when all the work is completed and send to you.
Many thanks for turning that around for us.
Michael and Sue
So very pleased with my frameless room divider
So very pleased with my frameless room divider.  I was nervous about paying up front for the installation but the two men who came to fit the glass curtains were exceptional in both their work and it taking my endless questions and concerns.
I now have a beautiful open aspect that allows better use of the ground floor space.  Thoroughly recommend this product and this company.
Mrs Y. Wood
Rugby.
The doors are fantastic...
Sent: 03 November 2016 09:09
To: Sales at Sunseeker Doors
Hi Tony and Paul,
This is just to say a huge thank you.  The doors are fantastic and your fitters were brilliant, diligent and professional.
The doors are fantastic
Sent: 28 October 2016 12:05
To: Sales at Sunseeker Doors
Guys,
Thank you. Thank you. Thank you.
The doors are fantastic.
Regards,
Paul
Please excuse the brevity of the message: Sent from my phone
Very happy with the doors
Sent: 17 October 2016 12:52
To: Sales at Sunseeker Doors
Your guys were great. Very happy with the doors. Will recommend.
Thanks, Imran
Sent from my iPhone
SunSeeker Doors... care about doing a proper job
Sent: 21 September 2016 12:38
To: Sales at Sunseeker Doors
Client Happy - thanks for coming back to do it again - its good to know that there are companies out there who care about doing a proper job
Best wishes
Jeremy
ORIGIN Architecture & Design
Look neat... Lots of light ... No hassle
Posted on Facebook: 9th September
Just had sunseeker slide and pivot doors installed and are really really happy! Look neat, let in lots of light and was a no hastle installation from start to finish. We did a lot of research. No problems at all from our recent experience.
Delighted with the new bifold doors
Sent: 11 August 2016 15:21
To: Sales at Sunseeker Doors
Dear Tony,
I am delighted with the new bifold doors; they look amazing and have really opened up the garden for me. My neighbours have just seen them and appear extremely interested. You may get another sale via me! Your workmen were delightful as was Marjorie at Head office. Please do pass on my comments as it is really important that people feel valued
Thank you for being so efficient; it make a huge difference when one is having work done around the house
Kind Regards
Sue Evans
Great Doors, great service
Date: 14th June 2016.
Having had SunSeeker Bifolds for several years (Xmas 2007ish?) we hesitated to get in touch when we began struggling with the locking system last month.
Even though it was long after any warranty would surely have expired, you had an engineer in the area 2 or 3 weeks later, who called round and adjusted the door - and was gone 10 minutes later. All fixed!
Thank you for making it so easy.
p.s. The doors still have that wow factor!
Wonderful doors, providing a wonderful view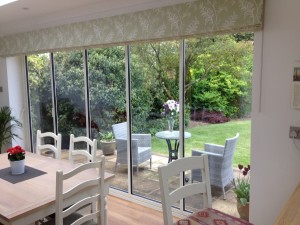 Date: 9th May 2016.
Hi Tony,
Having had the 4 metre, 5 panel Ultraslim sliding pivot doors fitted 15 months ago, and experienced all the seasons, it is a great pleasure to thank you and all your staff for producing such a great product. You were always cheerful and very helpful and the fitters did a great job.
We were also very pleased with your after-sales service. It did feel a little risky buying something we knew nothing about - we needn't have worried!
Our sincere thanks again David and Pam
Beautiful Doors
Sent: 05 October 2015 10:24
Subject: Beautiful doors
Morning Tony & Paul,
The doors look great - thank you!  We have had lots of admiring comments already and I gave your details to an interior designer who popped over last week and loved them, so he may be sending some more business your way!
After-sales service so helpful
We had a small problem with the lock on our bifold doors and the Sunseeker reps who came out could not have been more helpful. They fixed it for us with no fuss, were friendly and gave us really useful advice on maintaining the doors. It was a pleasure to see such good after-sales customer service. Thank you Sunseekers!
Great Job with the Doors, very efficient
Sent: 19 August 2015 07:30
To: Sunseeker Doors
Hi Paul.
The lads did a great job with the doors very efficient and clean workers
We are very pleased with our lovely view of our garden now.
thanks ... amazing job
Sent: 18 July 2015 14:15
Subject: Re: Sunseeker doors revised frameless single glazed quotation request.
Dear Paul and Tony,
I wanted to extend our utter thanks for sending us Adrian and his buddy today, what a top guy, they did an amazing job and we are very very grateful...
Admiring the doors and playing with them!
We had to share this email!
Date: Wed, Jul 1, 2015 at 7:48 PM
Subject: Re: FW: RE: RE: SunSeeker Doors Quote Request (UK) from Website
Hi Tony
I just wanted to thank everyone at Sunseekers for a smashing job on my patio doors. You've been fabulous, keeping me informed and sorting out everything; your surveyor was a star, making sure the builder understood requirements and being generally helpful and polite, with excellent product knowledge, and your fitter was poetry in motion, despite being on his own!
A fantastic effort from all concerned - I'm having so much pleasure just admiring the doors and playing with them!
Thank you all very much
Pleased with Doors and Fitters
"Just wanted to say how pleased we are with our doors and how very efficient the fitter was.
Patricia" 11 June 2015 - frameless (4 panel) doors
"We love our windows and doors, the fitters were excellent too,
Regards Natalie" 12 June 2015
Bristol Architect Specifies Sunseeker Doors – Again!
Mark, an architect based in the Bristol area, has specified SunSeeker Doors for his clients' projects for more than five years.

"Many thanks for the excellent doors and windows. They look great and the client loves them."
London Architect Recommends SunSeeker Doors
"Apologies for not sending this email sooner but thought I should just drop you a quick note to say how happy I am with the doors you manufactured. The fitters were also very good.
…
FYI I have also recommended you to some friends (Chris and Rita) who may contact you shortly."
Our doors and windows … AMAZING!!!!!!!!!!!
"Just to let you know – our doors and windows were installed today and they look... AMAZING!!!!!!!!!!!
We are totally thrilled!
Thank you – its been a pleasure dealing with you."
I must thank you...
... SunSeeker for a job well done.
The doors are just as good as we would hope and have been installed very well. Your installation team were first class.
To me, the measure of a company is how they overcome a problem ... and in the case of yourself and Sunseeker I could not ask for more ... I am sure that we will be asked 'where we got the doors from' and I will have no hesitation in recommending you.
Thanks again
Martin Harban
Testimonials for Slimline Bi Folding Doors
"AN EXCELLENT PRODUCT AND BRILLIANT SERVICE" Mark Guy, Parabola, Bristol
"LOOKS GOOD VERY TIDY INSTALLATION" Paul B, Wilstead, Bedfordshire
"THANK YOU – VERY EFFICIENT AND DOORS LOOK GREAT!" TLH, Finmere
"BRILLIANT JOB – THANK YOU!" Anthony S, London SE1
"HELPFUL AND EFFICIENT INSTALLATION" Chris L, Surrey
"The doors have been fitted very neatly – no damage at all to the interior walls. Please pass my thanks to your fitter – good job" Dominic W, Twickenham
"QUICK & EASY – MOST IMPRESSED" John D, Chiswick
"EXCELLENT SERVICE!" Darren M, Essex
"ECSTATIC ABOUT THE DOORS!" Kevin H, Nottingham
"EXCELLENT SERVICE AND INSTALLATION" Nicola S, London
"ON TIME AND SUPERB" JR, Solihull
Submit your testimonial